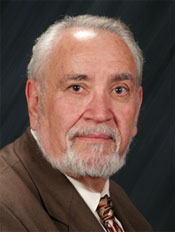 Sam Abdulaziz graduated from UCLA in 1962 with a Bachelor's Degree in Business Administration (Personnel Management). After working in the aerospace industry for several years he went on to Loyola University School of Law and earned his Juris Doctor degree in 1971, while working full time. He was admitted to the State Bar of California in 1972.
Over the past four decades, Sam has garnered a reputation as one of the nation's leading lecturers and writers in the field of construction law. He is one of the most respected and well-known construction attorneys in California. He is especially recognized for his expertise in the area of Mechanic's Lien remedies and issues concerning contractors and the Contractors' License Law.
Sam has litigated and arbitrated numerous construction cases and has served as an arbitrator within an arbitration panel, as well as being the sole arbitrator on complex construction cases. He has also served as a judge pro tem in the court as well as a mediator for the appellate court. On the local and statewide front, he serves as legal counsel for several construction related trade associations. Sam often represents contractors in disciplinary cases where the License Board seeks to discipline a contractor. Numerous attorneys refer such cases to Sam.
Sam Abdulaziz and Bruce Rudman were featured on the cover of Los Angeles Lawyer magazine that contained an article called "
Hammering the Contractor
" that was written by Sam and Bruce.
Elected officials and appointed members of various regulatory agencies commonly refer to Sam Abdulaziz on matters regarding the state's contracting laws and regulations. Sam's testimony before the CSLB advocating the rights of contractors is always well received. He has also argued cases before the California Supreme Court, appellate courts, the Public Utilities Commission, and disciplinary tribunals.
As senior partner of the Law Offices of Abdulaziz, Grossbart & Rudman, Sam oversees a legal team that practice all facets of law in the construction industry, including material suppliers, subcontractors, sureties, and developers, as well as representing contractors before their licensing agency in disciplinary matters.
For more information about Sam Abdulaziz or Abdulaziz, Grossbart & Rudman, email
ska@agrlaw.com
.
Loyola University School of Law, Juris Doctor, June 1971
University of California at Los Angeles, School of Business Administration, January 1962
California State Bar, January 1972
Supreme Court of the United States, June 1984
United States Court of Appeals for the Ninth Circuit, June 1984
United States Court Central District, January 1972
On February 27, 2007, Sam was presented the Flaig Award by the Los Angeles County Bar Association, Real Property Construction Law section. The award is given once every two years to one who shows excellence in construction law, and who is giving of his time and talents to the community
Appointed to the California Department of Education's Committee to develop guidelines for implementing design-build projects
Appointed to the Advisory Committee to the Office of Administrative Hearings
Recipient of a California Assembly Resolution honoring him for his exemplary record of leadership as Chairman of Advisory Committee
Inducted into Western States Roofing Contractors Association's Hall of Fame, June 2004
Gold Card Award, American Building Contractors Assoc. 1994
Lawyer of the Year 1978-1979, Constitutional Rights Foundation of the Los Angeles County Bar Association
Recipient of the 2005 Construction Person of the Year Award from the Builders' Exchange of the Central Coast, Inc.
Certificate of Achievement from the Contractors' State License Board because of his diligence and his many years of dedication to the construction industry and particularly for providing his expertise and cooperation during the 2005/2006 session of the California Legislature
Certificate of Special Congressional Recognition from the United States Congress as 2005 Construction Person of the Year
Certificate of Recognition from the State Senate as 2005 Construction Person of the Year
Publications in legal magazines, including being featured on the cover of L.A. Lawyer, January 2001
Advice on Construction Law, particularly Mechanic's Lien Law. Called upon by elected and appointed officials, contractors, legal counsel
Lectures and Seminars for local state, and national construction industry trade associations
Plumbing Heating Cooling Contractors of the Greater Los Angeles Area Lifetime Achievement Award
Plumbing Heating Cooling Contractors of California - Outstanding Legal Representation on issues important to the Plumbing, Heating, Cooling Industry
Certificate of Recognition from the city of Marina
Certificate of Recognition from Monterey County, California
Selected as Super Lawyer for the years 2007, 2008, 2009, 2010, 2011, 2012

California Construction Law, updated annually.
California Public Agency "Practice", Matthew Bender, Chapter 104
Hammering the Contractor, Cover Story, L.A. Lawyer Magazine, January 2001
Defective Decision, L.A. Lawyer Magazine, January 1999
Edited Shepard's "California Construction Law"
Monthly columns appear in various construction magazines and newsletters